Project Blu
Affiliate Program
Good for your pet. Good for the planet. Meet Project Blu, the trendsetting disrupter of the pet products space. Project Blu's artisan-crafted accessories for dogs and cats are changing the game! Made from 100% recycled materials and based on a totally innovative business model, Project Blu is more than just a pet accessories brand.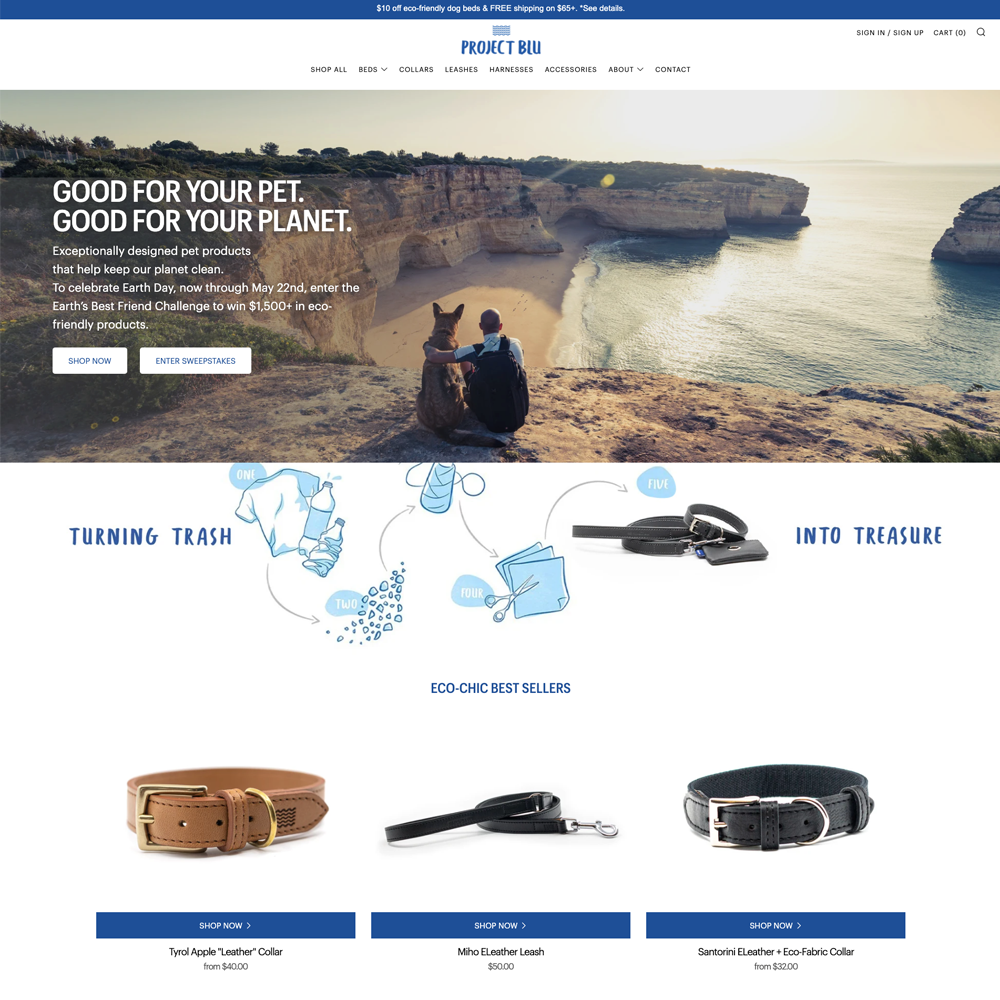 Project Blu Affiliate Program Offer
Project Blu founder Geryn Evans is out to totally revolutionize the pet accessories market. Up until this point, sustainability hasn't exactly been the M.O. behind the industry. That's why Project Blu stands proud as not just a brand, but a movement. Project Blu's eco-friendly pet products are leading the charge for pet companies everywhere to adopt more sustainable, ethical practices. Project Blu aims to lower their carbon pawprint and encourages pet owners to do the same, without sacrificing quality and design.
Project Blu shatters the mold of traditional manufacturing processes for pet products. They do it by transforming polluted materials like ocean plastics and fishing nets into stylish designs pets and pet parents love. While some companies out there do their part by including a small percentage of recycled materials, Project Blu goes all the way: 100% of their materials are recycled! And they're being the change with some serious numbers, having converted more than 6 million plastic bottles since 2019. Good for your pet. Even better for the planet.
What's more, Project Blu isn't just concerned about the environment; they're concerned with affecting positive change at every level of their business.
90 Day Cookie Length
Conversions happening within a 90-day window ensures you will get credit for the sale.
15% CPS Offer
Promoting the Project Blu affiliate offer earns a 15% revshare on purchases.
The brand partners with local communities for source materials to help end the cycle of poverty and promote wholeness for pets and people alike. Project Blu is based in the UK and manufactures all their products in Italy, where trash is turned into treasure by their team of artisans.
Eco-conscious and even simply fashion-conscious pet parents love the high-end design and quality of the accessories from Project Blu. We're talking luxurious pet beds, comfortable collars, awesome toys, and more. All from a business that's verifiably sustainable at every level. With Project Blu you can get all the stylish accessories your pet needs. Without the high carbon pawprint.
How to Make Money Promoting Project Blu
Project Blu is a genuinely innovative player in the pet accessories game, with the heart and sustainable practices largely lacking industry-wide. Their commitment to helping pets, the environment, and humans sets a wonderful example for businesses everywhere who want to earn profits while being kind to the planet. Project Blu's holistic and sustainable business model along with their killer products make them a superb addition to RevOffers.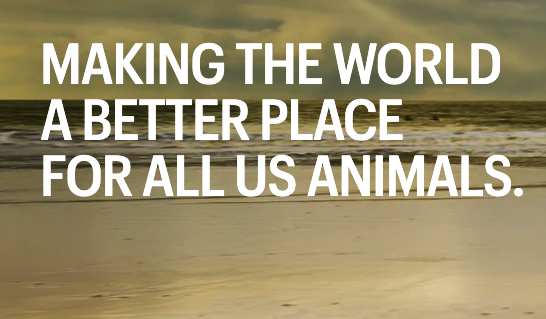 Why RevOffers Performance Marketing?
As an affiliate, you are aware that there are many poor brands with empty products out there, and a few amazing brands with ultra-premium products to promote. RevOffers focuses on quality over quantity, we have the best list of curated CBD offers anywhere.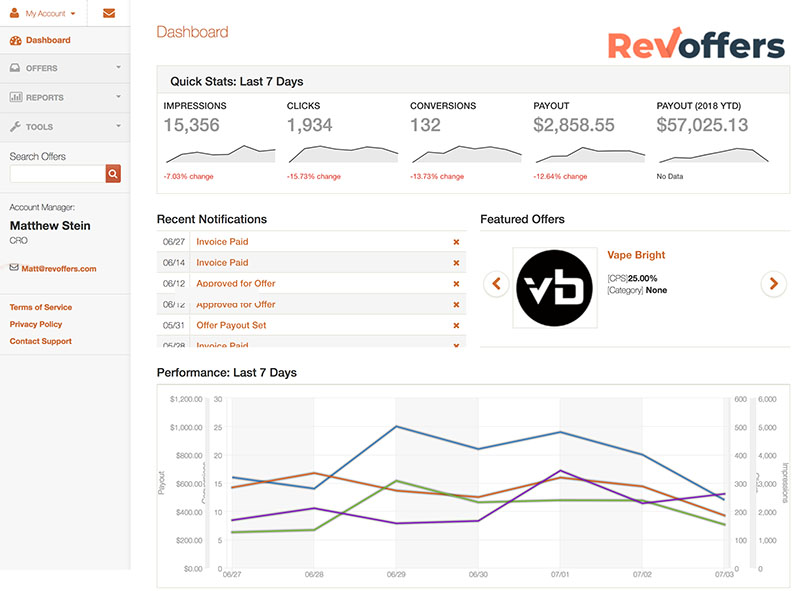 Why Affiliates Love to Promote with RevOffers
We curate the best transformational health products that are high-converting which allows our publishers to make even more money promoting brands they can believe in. Since RevOffers is an network, publishers have centralized access to multiple offers making it easy to promote, track and get paid.
RevOffers makes it easy for us to promote multiple offers all from one dashbaord - which means one payment too! With RevOffers we've been able to grow our affiliate revenue by 400% in just 3 months.
Jeanie Haar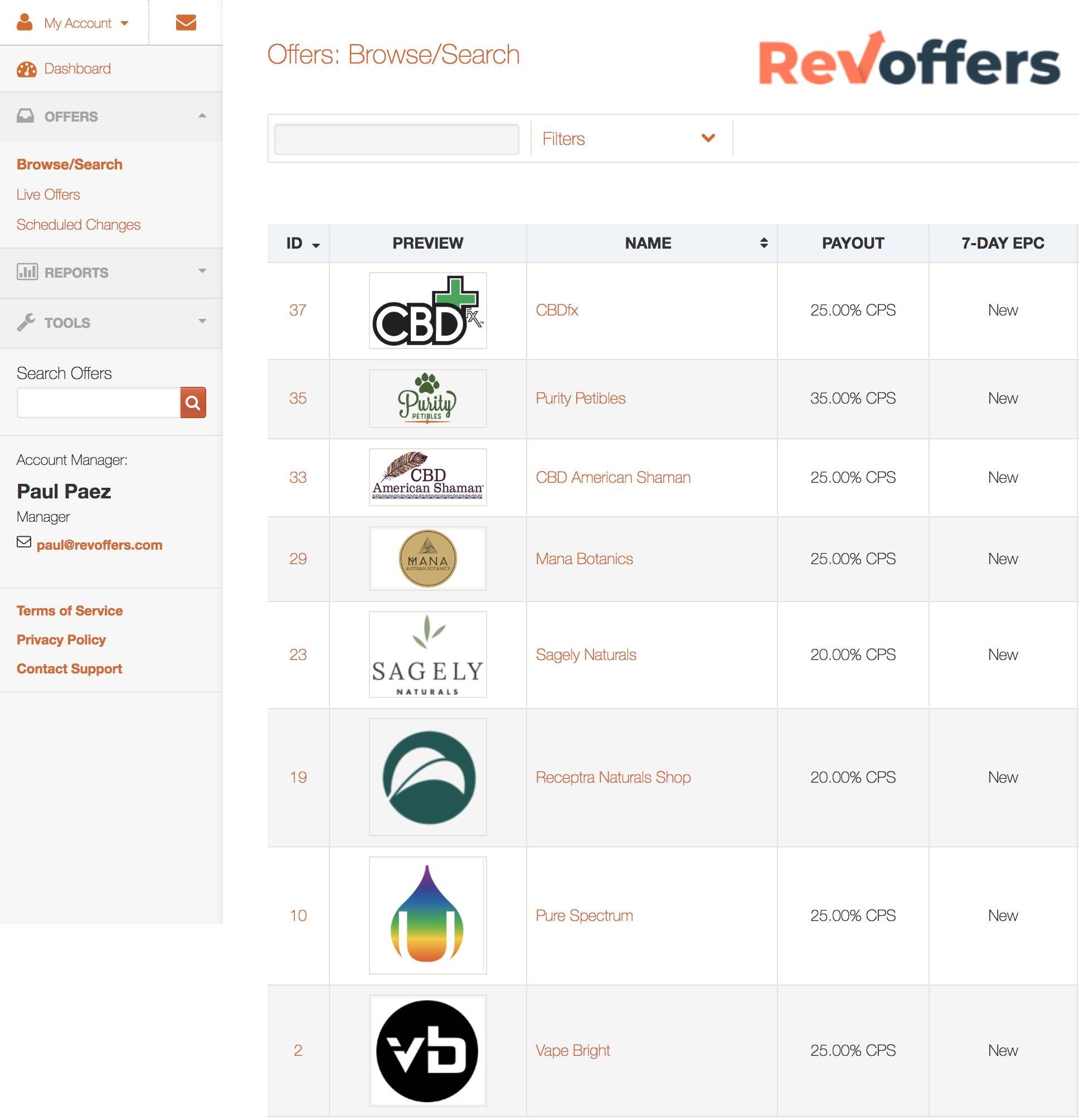 We are an Affiliate Network
We specialize in bringing affiliates like you high-converting offers with excellent payouts.
RevOffers creates deep partnerships with partner brands to ensure publishers actually get paid on time, every time. Joining RevOffers allows affiliates to leverage our curated collection of products in legal cannabis, natural health, and more. Putting multiple legal cannabis affiliate programs in one place simplifies and consolidates the process of making money with affiliate marketing.
Our Industry Leading Publishers