Live Rishi
Affiliate Program
Say hello to Live Rishi, the Oklahoma CBD brand that's passionate about healing. Their signature Rishi Rub is a divine, USDA organic salve that's a proprietary blend: you won't find this kind of magic anywhere else.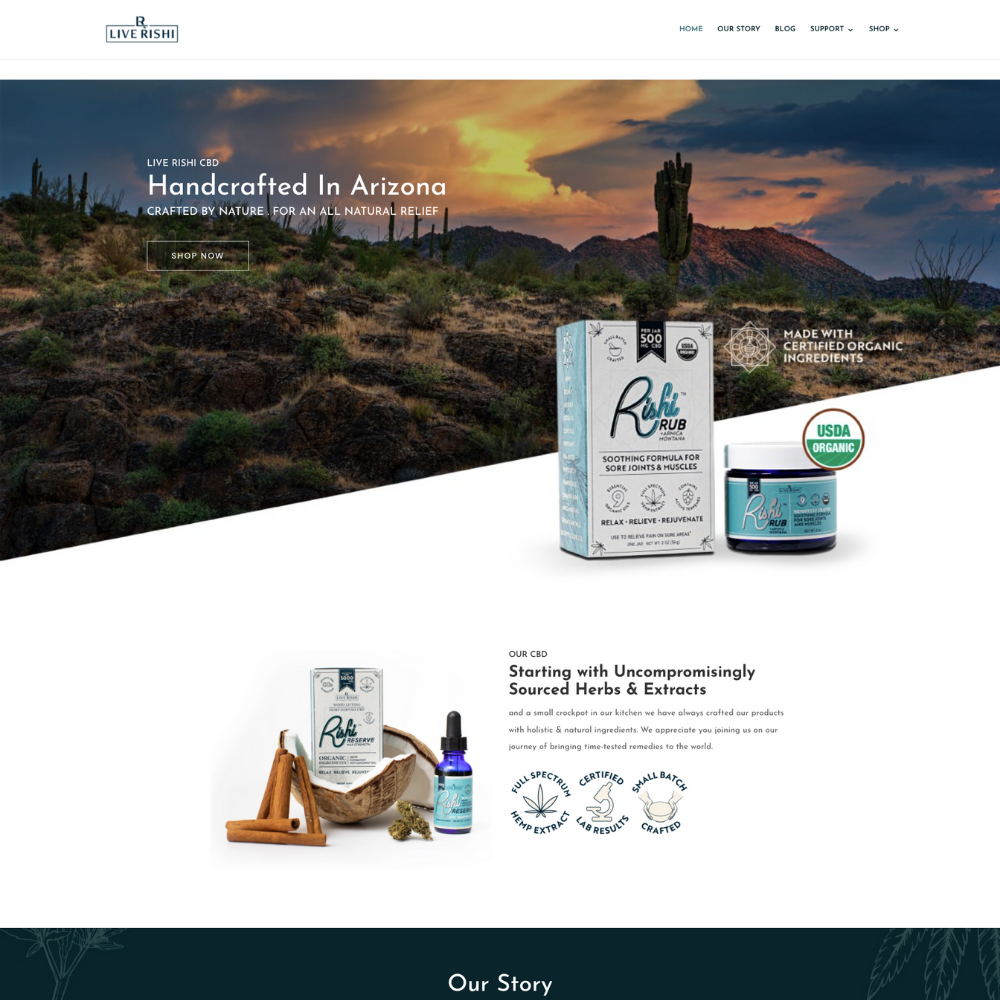 Live Rishi Affiliate Offer
Live Rishi has one of those feel-good backstories that make you feel warm about the people behind the purchase. Married couple Jim and Linda joined forces with someone brought to them by destiny, a friend named Rishi who met Jim while he was dealing with Linda's severe health problems. 
Much of what Linda was experiencing came as a result of pharmaceuticals, which she needed for quality of life, but brought along with them terrifying side effects. Like many before them, Linda and Jim found help with CBD and eventually teamed up with Rishi to help others.
The trio first formulated their signature CBD product, the award-winning Rishi Rub, and soon, Live Rishi was born. This domestic CBD company is committed to organic through and through, obtaining USDA organic certification on both their ingredients and final products. And all the hemp in their CBD comes from sustainable US farms.
 Each botanical was carefully selected for natural pain-relieving properties: potent oils like frankincense, for example. The resulting potion does wonders on the joints and temples, whatever area needs a little TLC.
90 Day Cookie Length
Conversions happening within a 90-day window ensures you will get credit for the sale.
25% CPS Offer
Promoting the Live Rishi affiliate offer earns a 25% CPS on purchases.
It's easy to see why the brand's Rishi Rub has earned loyal devotees from all over the world– it's truly one of a kind! 100% all-natural and 100% organic, customers frequently mention how they can feel the botanicals going to work in just minutes.
And finally, Live Rishi is a diehard mission-driven company, something that usually goes hand in hand with quality in the CBD biz. Their positive spirit comes through in everything they do:
"For those who embrace natural wisdom, every day can be a new life."
How to Make Money Promoting Live Rishi
As we keep mentioning, the Rishi Rub is an ace in the hole. Couple that fantastic topical with the rest of Live Rishi's exquisite USDA organic CBD line, and the quality speaks for itself. For these reasons and more, Live Rishi makes an excellent addition to the RevOffers network.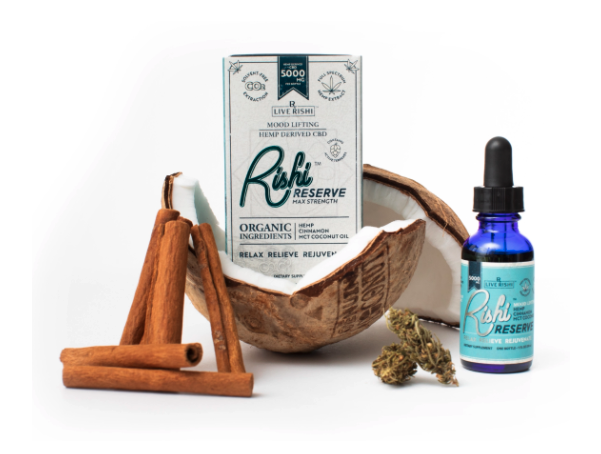 Why RevOffers Performance Marketing?
As an affiliate, you are aware that there are many poor brands with empty products out there, and a few amazing brands with ultra-premium products to promote. RevOffers focuses on quality over quantity, we have the best list of curated CBD offers anywhere.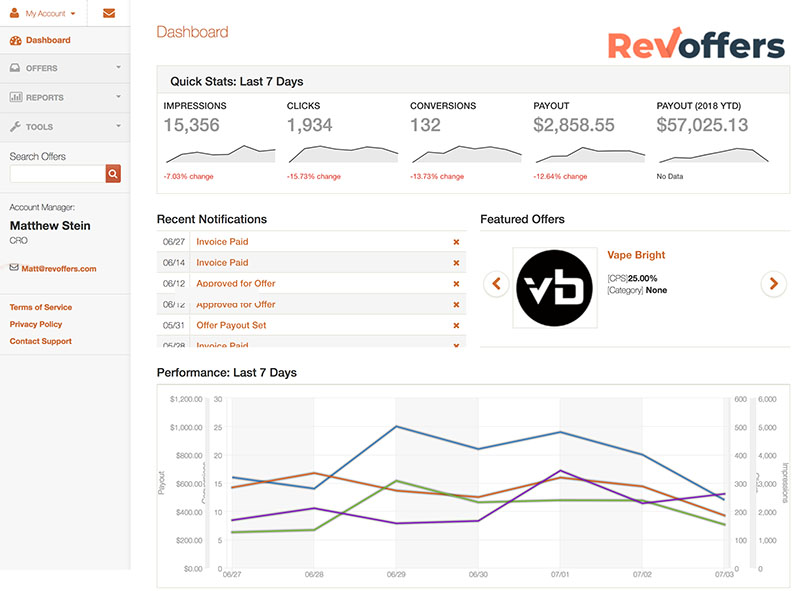 Why Affiliates Love to Promote with RevOffers
We curate the best transformational health products that are high-converting which allows our publishers to make even more money promoting brands they can believe in. Since RevOffers is an network, publishers have centralized access to multiple offers making it easy to promote, track and get paid.
RevOffers makes it easy for us to promote multiple offers all from one dashbaord - which means one payment too! With RevOffers we've been able to grow our affiliate revenue by 400% in just 3 months.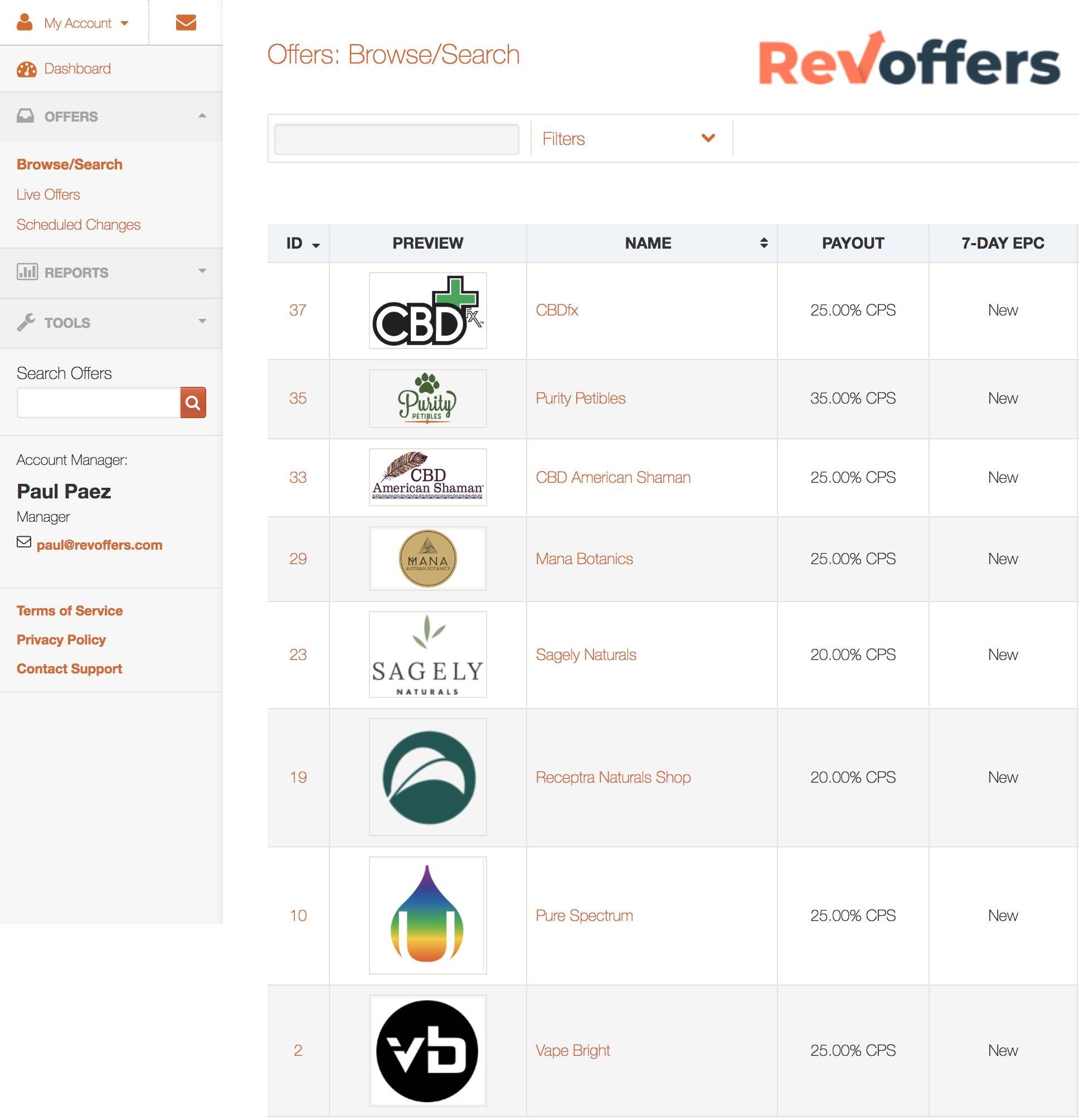 We are an Affiliate Network
We specialize in bringing affiliates like you high-converting offers with excellent payouts.
RevOffers creates deep partnerships with partner brands to ensure publishers actually get paid on time, every time. Joining RevOffers allows affiliates to leverage our curated collection of products in legal cannabis, natural health, and more. Putting multiple legal cannabis affiliate programs in one place simplifies and consolidates the process of making money with affiliate marketing.
Our Industry Leading Publishers