Fabuleaf
Affiliate Program
Looking for verifiably potent, full spectrum CBD goodness? Fabuleaf has you covered. Meet the brand that's knocking the socks off full spectrum seekers. By strictly using the flower part of the hemp plant to make their cannabidiol, Fabuleaf offers slam-dunk potency. Every time.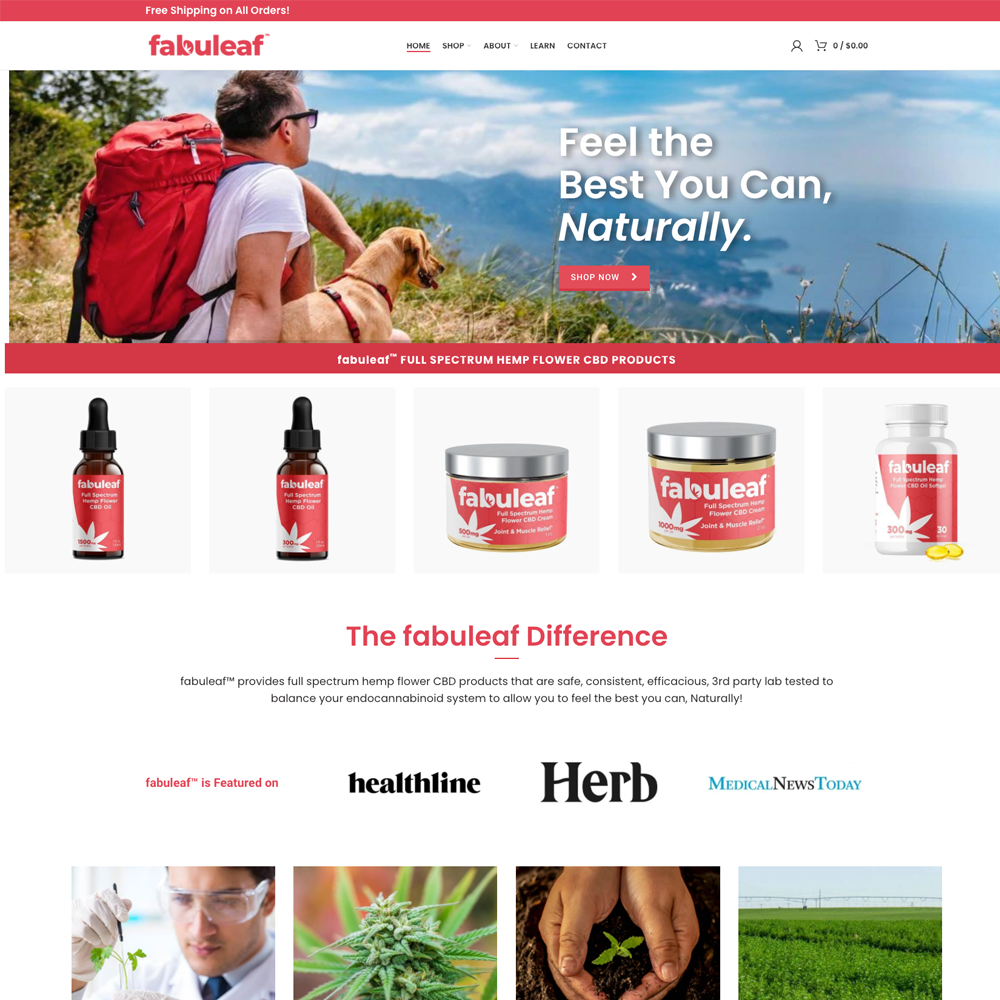 Fabuleaf Affiliate
Program Offer
Fabuleaf is a seed-to-sale CBD company, meaning they control the entire production process. Unlike many CBD vendors who purchase their cannabidiol or their hemp from other sources, Fabuleaf is intimately involved at all stages. It starts with killer genetics: The Fabuleaf bioscience team has spent years in research and development with different genetic varieties of cannabis. That means that the hemp in Fabuleaf's CBD oil has been meticulously selected for its rich cannabinoid profile.
Then, it's all about the flower! While most CBD producers use the stalks and stems to make CBD oil, Fabuleaf does things a bit differently. Instead of incorporating these parts with lower amounts of trichomes— where cannabinoids and terpenes are most concentrated— Fabuleaf exclusively harvests hemp flower to make their CBD oil. And they do it by hand. The result is fantastically potent, full spectrum cannabidiol with high levels of CBD, along with other healthy cannabinoid superstars like CBG.
The proof is in the pudding! Or the test results, rather. Fabuleaf is a consummately transparent organization with up-to-date lab tests on all their CBD products easily available for view before purchase. These eye-catching, independent lab reports prove without a doubt that Fabuleaf has some seriously potent CBD oil on their hands…
90 Day Cookie Length
Conversions happening within a 90-day window ensures you will get credit for the sale.
25% RevShare
Promoting the Fabuleaf  affiliate offer earns a 25% RevShare on purchase.
10% Discount Funnel
Fabuleaf affiliates use a 10% discount offer to incentivize their traffic that can double conversion.
Fabuleaf offers refreshingly simple CBD supplements with pure, all-natural ingredients that are the perfect complement to their famously potent cannabidiol. For people who care about where their CBD comes from and only want the best, Fabuleaf is a breath of fresh air.
How to Make Money Promoting Fabuleaf
Lots of CBD companies offer supposedly 'full spectrum' products, but the test results don't always check out. With Fabuleaf, consumers can feel confident that they are indeed getting one of the most potent full spectrum CBD options on the market. Because of their commitment to transparency and growing their hemp with unparalleled care and intention, Fabuleaf makes an excellent addition to the RevOffers network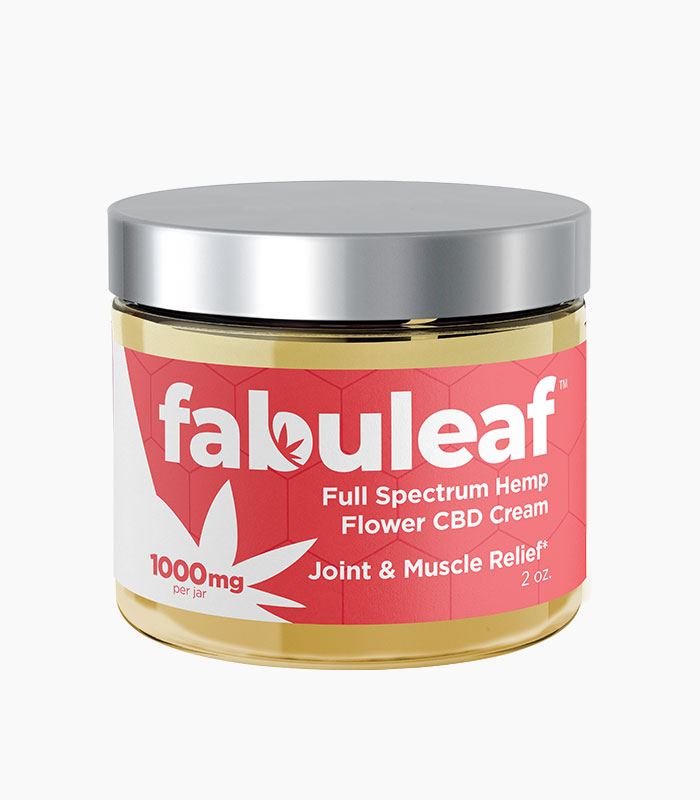 Why RevOffers Performance Marketing?
As an affiliate, you are aware that there are many poor brands with empty products out there, and a few amazing brands with ultra-premium products to promote. RevOffers focuses on quality over quantity, we have the best list of curated CBD offers anywhere.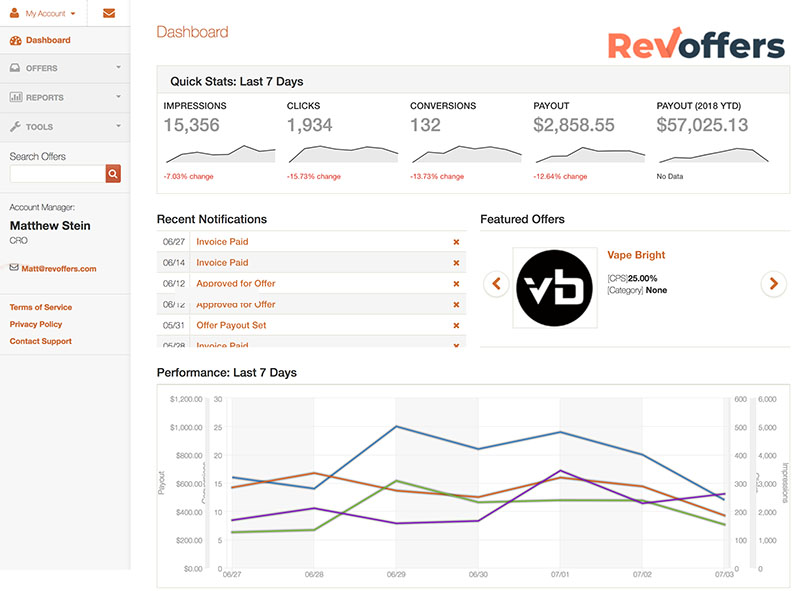 Why Affiliates Love to Promote with RevOffers
We curate the best transformational health products that are high-converting which allows our publishers to make even more money promoting brands they can believe in. Since RevOffers is an network, publishers have centralized access to multiple offers making it easy to promote, track and get paid.
RevOffers makes it easy for us to promote multiple offers all from one dashbaord - which means one payment too! With RevOffers we've been able to grow our affiliate revenue by 400% in just 3 months.
Jeanie Haar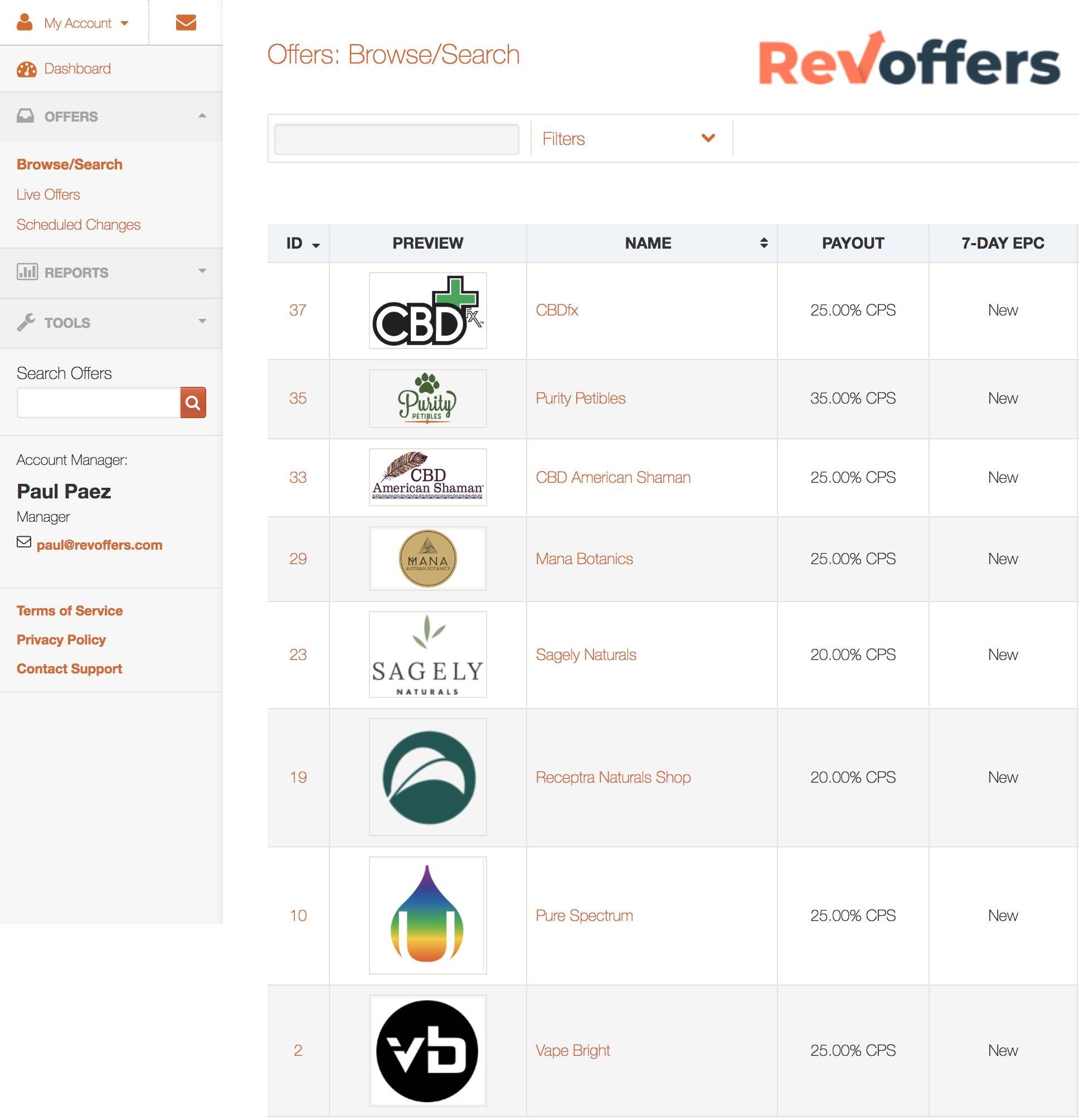 We are an Affiliate Network
We specialize in bringing affiliates like you high-converting offers with excellent payouts.
RevOffers creates deep partnerships with partner brands to ensure publishers actually get paid on time, every time. Joining RevOffers allows affiliates to leverage our curated collection of products in legal cannabis, natural health, and more. Putting multiple legal cannabis affiliate programs in one place simplifies and consolidates the process of making money with affiliate marketing.
Our Industry Leading Publishers