Eusoh
Affiliate Program
Pet insurance just got a genius upgrade. It's more affordable, too! Check out Eusoh, the revolutionary community health sharing plan that's giving pets the wellness they deserve and owners next-level peace of mind.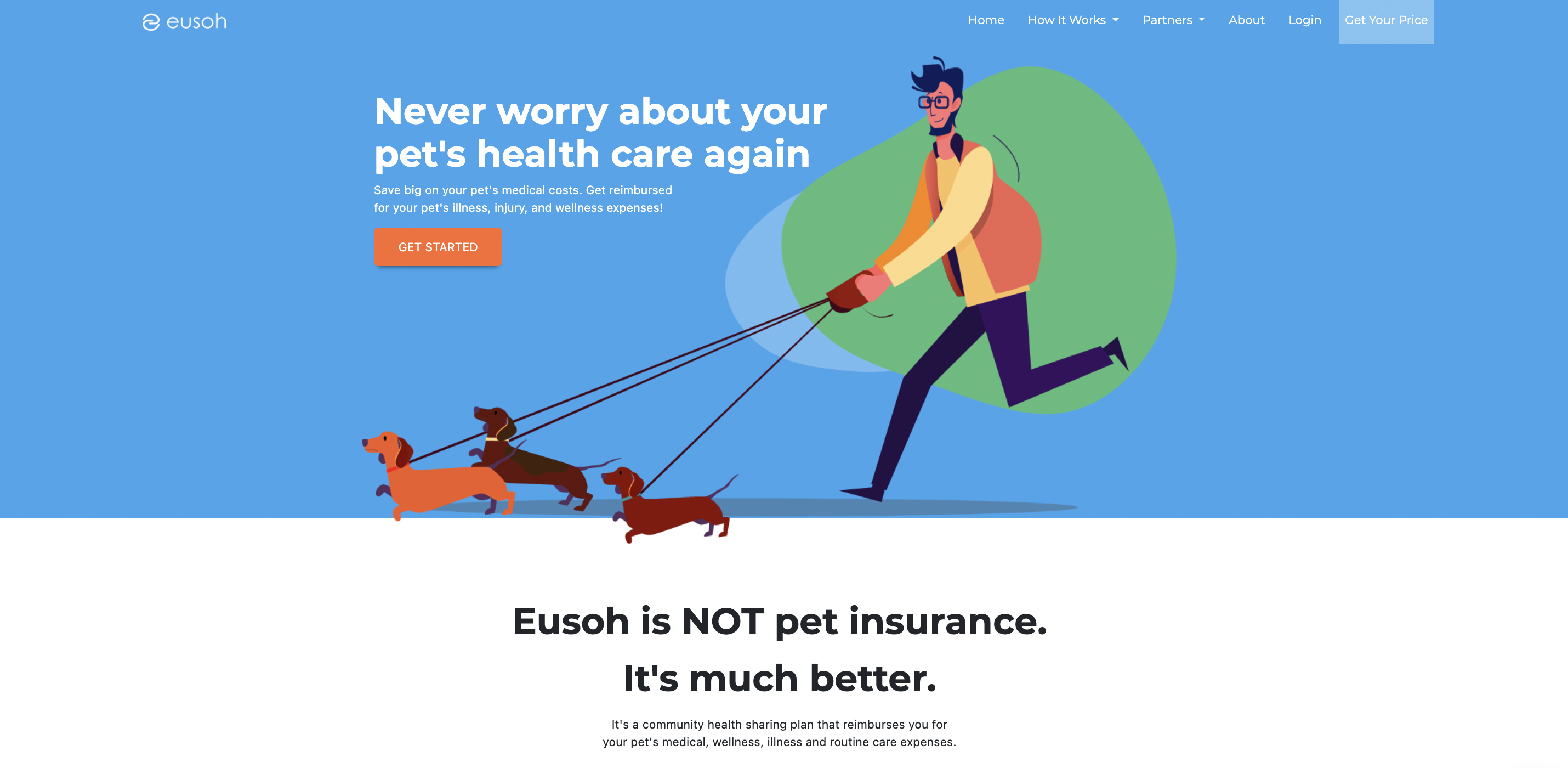 Eusoh Affiliate Program Offer
Visits to the vet rarely come cheap. If your pet gets injured and needs emergency surgery, it may set you back thousands… there has to be a better way! Now, there is. Eusoh isn't traditional health insurance for your pet– it's a community healthcare plan bringing affordability and ease to pet owners everywhere. Founded by a surgeon who's no stranger to the pitfalls of US health insurance, Eusoh is a much-needed answer for pet owners who want to save money while giving their furry loved ones the best-possible care.
It works like this– each member of the Eusoh community has a monthly premium with a limit, meaning premiums will never go up. Services are paid by the community as a whole. Your pet doesn't use that many services that month? You pay less. Your pet needs emergency surgery? You have to pay more that month. It's a peer-to-peer sharing model that's saving pet owners serious cash. 
With Eusoh, you get reimbursed for your pet's healthcare expenses. Members simply pay upfront, submit a receipt, and receive a payment from the Eusoh community. The average savings compared to traditional pet insurance is 40% per month! It's an especially great option for people with breeds more prone to chronic health issues.
90 Day Cookie Length
Conversions happening within a 90-day window ensures you will get credit for the sale.
$40 CPA Offer
Promoting the Eusoh affiliate offer earns a $40 CPA on purchases.
That's because Eusoh covers practically EVERYTHING. We're talking routine vet visits, injuries, cancer, surgeries, you name it. Eusoh will even cover alternative treatments you might seek out to provide more holistic care for your dog or cat. Does it get any better?
Not unless you're getting reimbursed for your pet's vet visits with Eusoh. It's easy. It's affordable. And it's frankly one of the most comprehensive options out there.
How to Make Money Promoting Eusoh
Why not use the sharing economy to lower costs and increase the quality of pet health care? It's genius, and Eusoh is passionately providing a great value to their growing customer base. Because of their innovative spirit, their sense of community, and their contribution to the wellbeing of pets and their parents alike, RevOffers is proud to include Eusoh in our affiliate network.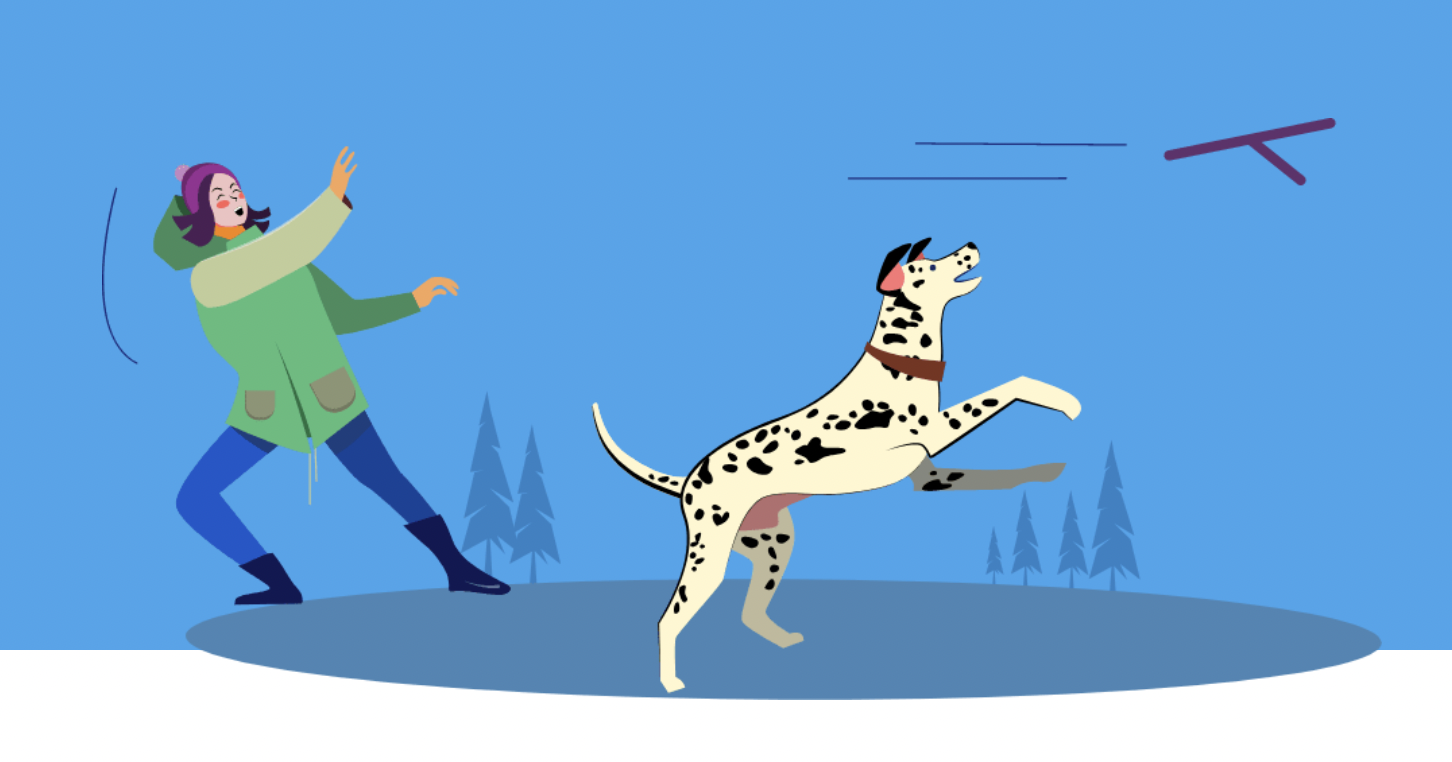 Why RevOffers Performance Marketing?
As an affiliate, you are aware that there are many poor brands with empty products out there, and a few amazing brands with ultra-premium products to promote. RevOffers focuses on quality over quantity, we have the best list of curated CBD offers anywhere.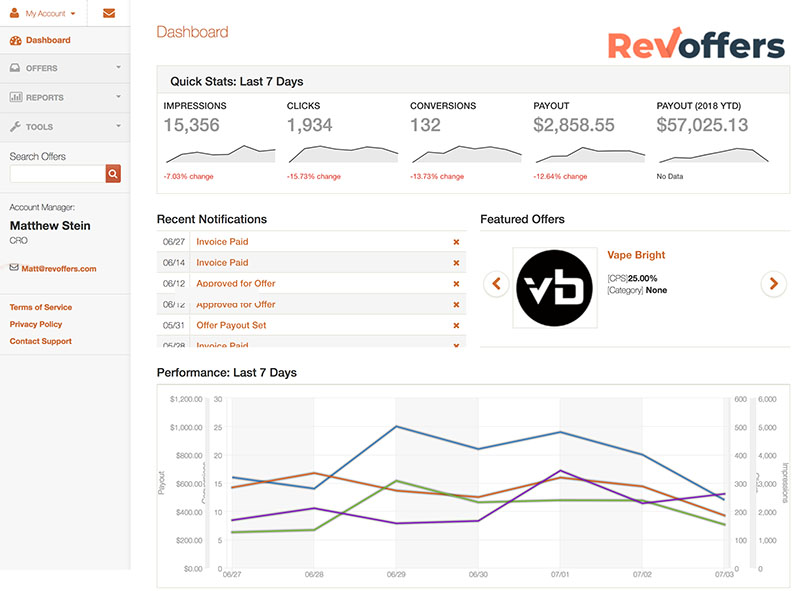 Why Affiliates Love to Promote with RevOffers
We curate the best transformational health products that are high-converting which allows our publishers to make even more money promoting brands they can believe in. Since RevOffers is an network, publishers have centralized access to multiple offers making it easy to promote, track and get paid.
RevOffers makes it easy for us to promote multiple offers all from one dashbaord - which means one payment too! With RevOffers we've been able to grow our affiliate revenue by 400% in just 3 months.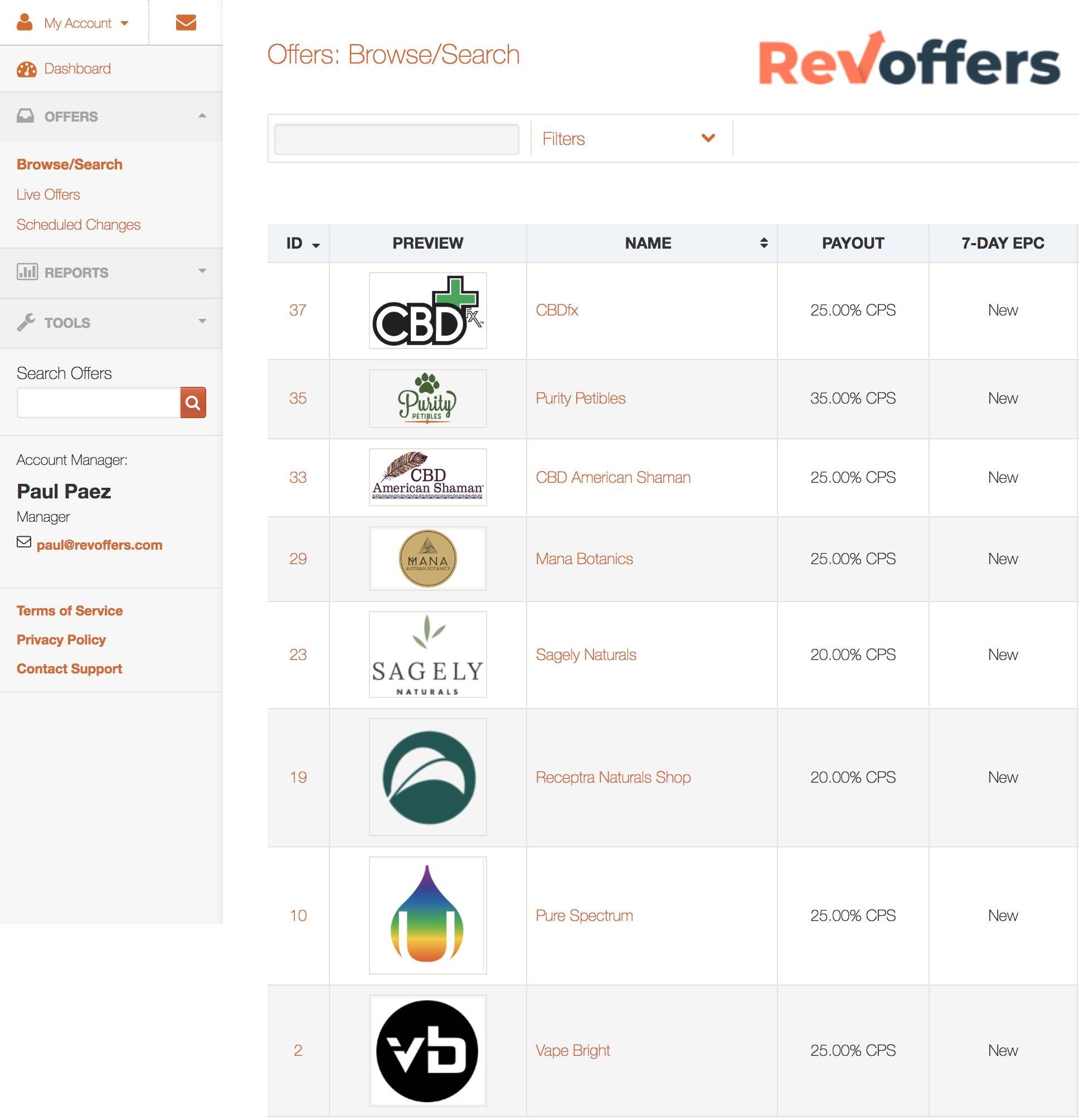 We are an Affiliate Network
We specialize in bringing affiliates like you high-converting offers with excellent payouts.
RevOffers creates deep partnerships with partner brands to ensure publishers actually get paid on time, every time. Joining RevOffers allows affiliates to leverage our curated collection of products in legal cannabis, natural health, and more. Putting multiple legal cannabis affiliate programs in one place simplifies and consolidates the process of making money with affiliate marketing.
Our Industry Leading Publishers