Cornbread Hemp
Affiliate Program
Cornbread Hemp is honestly one of the coolest CBD brands we've ever discovered! Their name has effortlessly awesome origins, and the Kentucky crew behind them won't settle for anything besides full spectrum, USDA organic CBD oil from their home state. See why Cornbread Hemp's authentic vibe and potent products are so buzzworthy!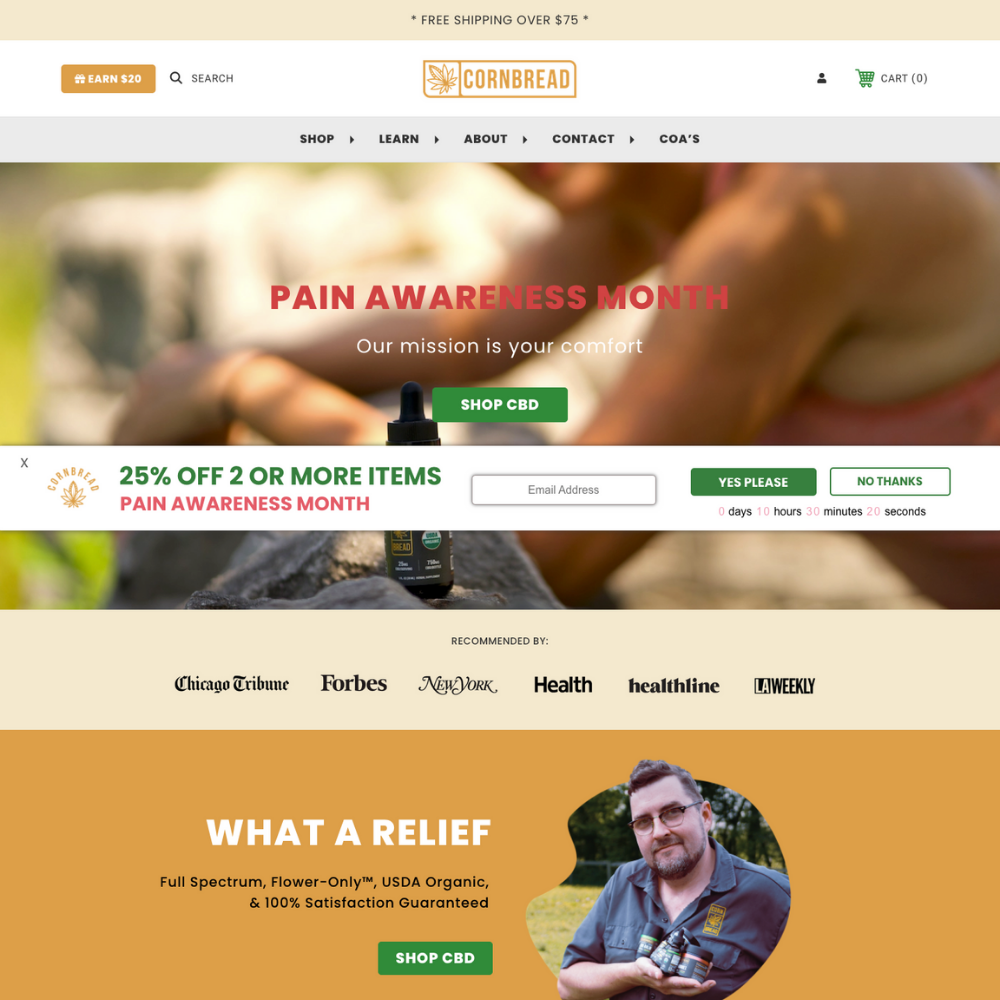 Cornbread Hemp Affiliate Offer
So, what's with the name? Off the bat your spidey senses tingle as you realize this might be a different kind of CBD company. The story goes like this: Co-founder of Cornbread Hemp Jim Higdon investigated and wrote a book about a group of Kentucky cannabis farmers known as the 'cornbread mafia'. These men were arrested in the 80s for supplying the largest domestic marijuana operation in US history. The whole saga unfolded in Marion County, the hometown of both founders of Cornbread Hemp. Higdon's historical book helped to get many of the cornbread mafia commuted sentences and serves as a reminder of the renegade spirit that underpins the Cornbread Hemp brand.
Cornbread Hemp draws on more than 200 years of hemp farming experience in the Kentucky area, where climate and topography are optimal for happy cannabis. Their mission is simply to improve quality of life, and accordingly, the company only sources organically grown hemp flowers from their home state.
In fact, Cornbread Hemp has the coveted USDA organic seal on both their full spectrum CBD oil and the products themselves! Their line is clean and potent, made exclusively from hemp flowers.
90 Day Cookie Length
Conversions happening within a 90-day window ensures you will get credit for the sale.
20% CPS Offer
Promoting the Cornbread Hemp affiliate offer earns a 20% CPS on purchases.
The flower part of the hemp plant contains more cannabinoids per volume than the rest of the plant; so when you use Cornbread Hemp products, you can look forward to using less!
Cornbread Hemp offers USDA organic CBD supplements grown and made in Kentucky, including tinctures, gummies, topicals, capsules, and CBD for pets. Cornbread Hemp's love for their home state, their historical farming tradition, and their commitment to potency are hard to beat.
How to Make Money Promoting Cornbread Hemp
Cornbread Hemp believes everyone deserves better CBD; CBD that is full spectrum, potent, and certified organic. The brand delivers with a no-nonsense, affordable line and an infectious love and curiosity about Kentucky hemp in general that few companies possess. For these reasons and more, Cornbread Hemp makes an excellent addition to the RevOffers network.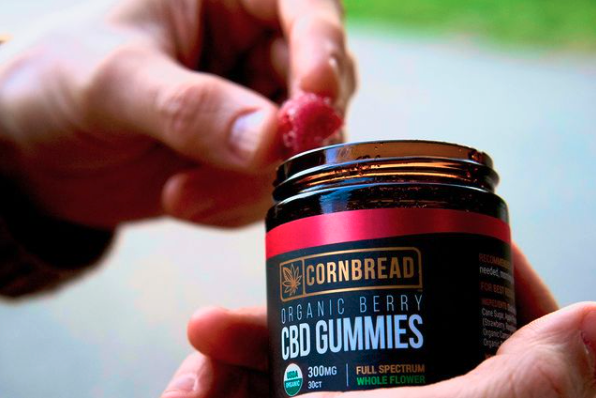 Why RevOffers Performance Marketing?
As an affiliate, you are aware that there are many poor brands with empty products out there, and a few amazing brands with ultra-premium products to promote. RevOffers focuses on quality over quantity, we have the best list of curated CBD offers anywhere.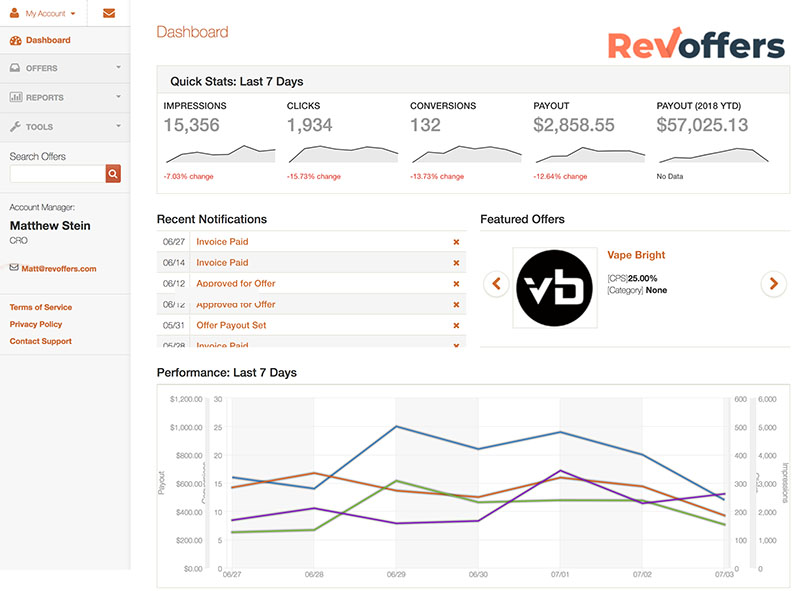 Why Affiliates Love to Promote with RevOffers
We curate the best transformational health products that are high-converting which allows our publishers to make even more money promoting brands they can believe in. Since RevOffers is an network, publishers have centralized access to multiple offers making it easy to promote, track and get paid.
RevOffers makes it easy for us to promote multiple offers all from one dashbaord - which means one payment too! With RevOffers we've been able to grow our affiliate revenue by 400% in just 3 months.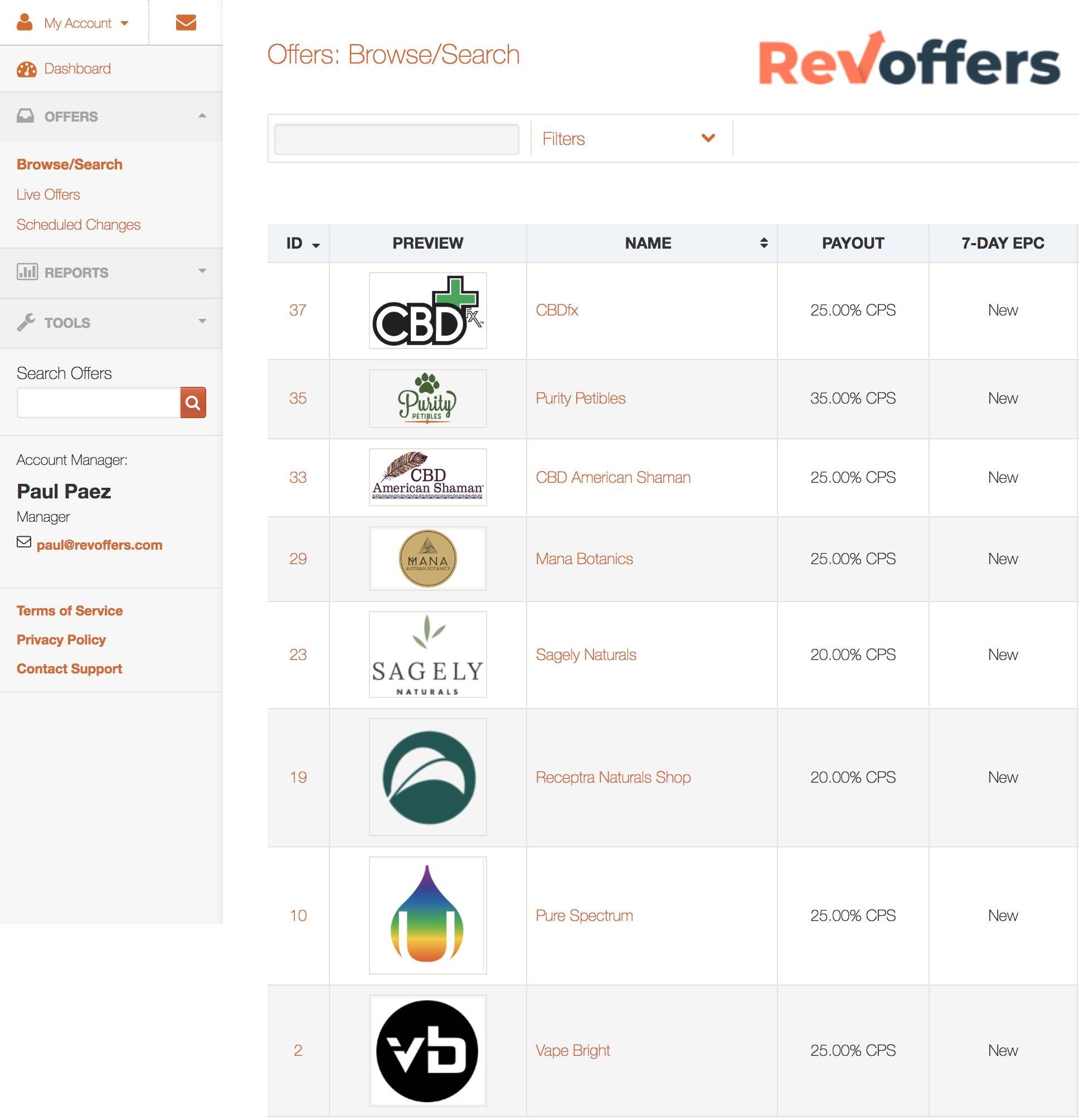 We are an Affiliate Network
We specialize in bringing affiliates like you high-converting offers with excellent payouts.
RevOffers creates deep partnerships with partner brands to ensure publishers actually get paid on time, every time. Joining RevOffers allows affiliates to leverage our curated collection of products in legal cannabis, natural health, and more. Putting multiple legal cannabis affiliate programs in one place simplifies and consolidates the process of making money with affiliate marketing.
Our Industry Leading Publishers