BATCH CBD
Affiliate Program
Meet Wisconsin's homegrown CBD company, where sustainability is paramount and feeling good means doing good. BATCH is a welcome breath of fresh air with a mission-driven spirit that's hard to resist. Discover why BATCH's handcrafted cannabinoid supplements are grade-A winners.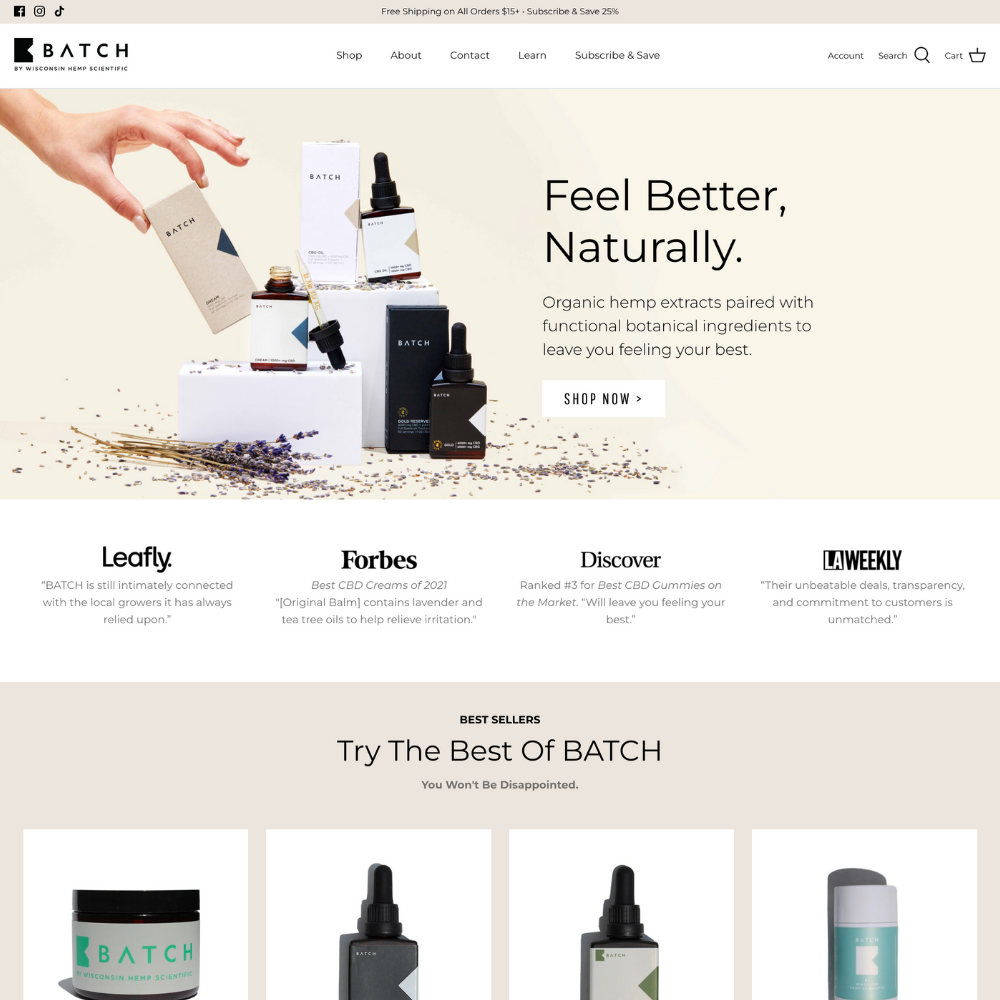 BATCH Affiliate Offer
BATCH is the retail arm of Wisconsin Hemp Scientific, CBD extractors and processors extraordinaire. It follows that all BATCH products are extracted and formulated by experts with extensive knowledge and experience in cannabinoids. BATCH's founders are a close-knit group of friends from Milwaukee who found each other as college roommates. Since, they've combined their education in business and chemical engineering with a passion for hemp. The fruits of their labor are now available via the BATCH brand for CBD oil users across the country. 
What makes BATCH stand out in the sea of CBD vendors today is their mastery of ethanol extraction. Accordingly, their full spectrum CBD oil and CBG oil is distinctly potent, a characteristic backed up by independent lab reports. And because BATCH keeps things local and all-natural, they exude both an eco-conscious and a boutique air.
What's more, the team behind BATCH was one of the original participants in the Wisconsin Hemp Pilot Program in 2018. Under these auspices, they proved themselves to be superior extractors and hemp processors. All BATCH products come from local farms that have been selected for their potent hemp genetics and organic practices. From there, BATCH handles all processing, formulation, testing, and packaging for a truly seed-to-sale experience.
90 Day Cookie Length
Conversions happening within a 90-day window ensures you will get credit for the sale.
30% CPS Offer
Promoting the BATCH affiliate offer earns a 30% CPS on purchases.
The BATCH product line features sleek, smart blends of full spectrum CBD and CBG oil with other functional plant extracts. Ingredients are all-natural, with custom terpene blends for sleep health and other wellness issues. With rave reviews and the trustworthiness of a local business, BATCH's homegrown attitude and passion for hemp make them a great option for anyone looking for awesomely potent, all-natural CBD.
How to Make Money Promoting BATCH
BATCH is earning wonderful online reviews, particularly from people looking for help with sleep. The brand is charitable, sustainability-minded, and run by experts in the CBD extraction field. Ergo, RevOffers considers BATCH a worthy new brand to include in our network of trusted affiliates.
.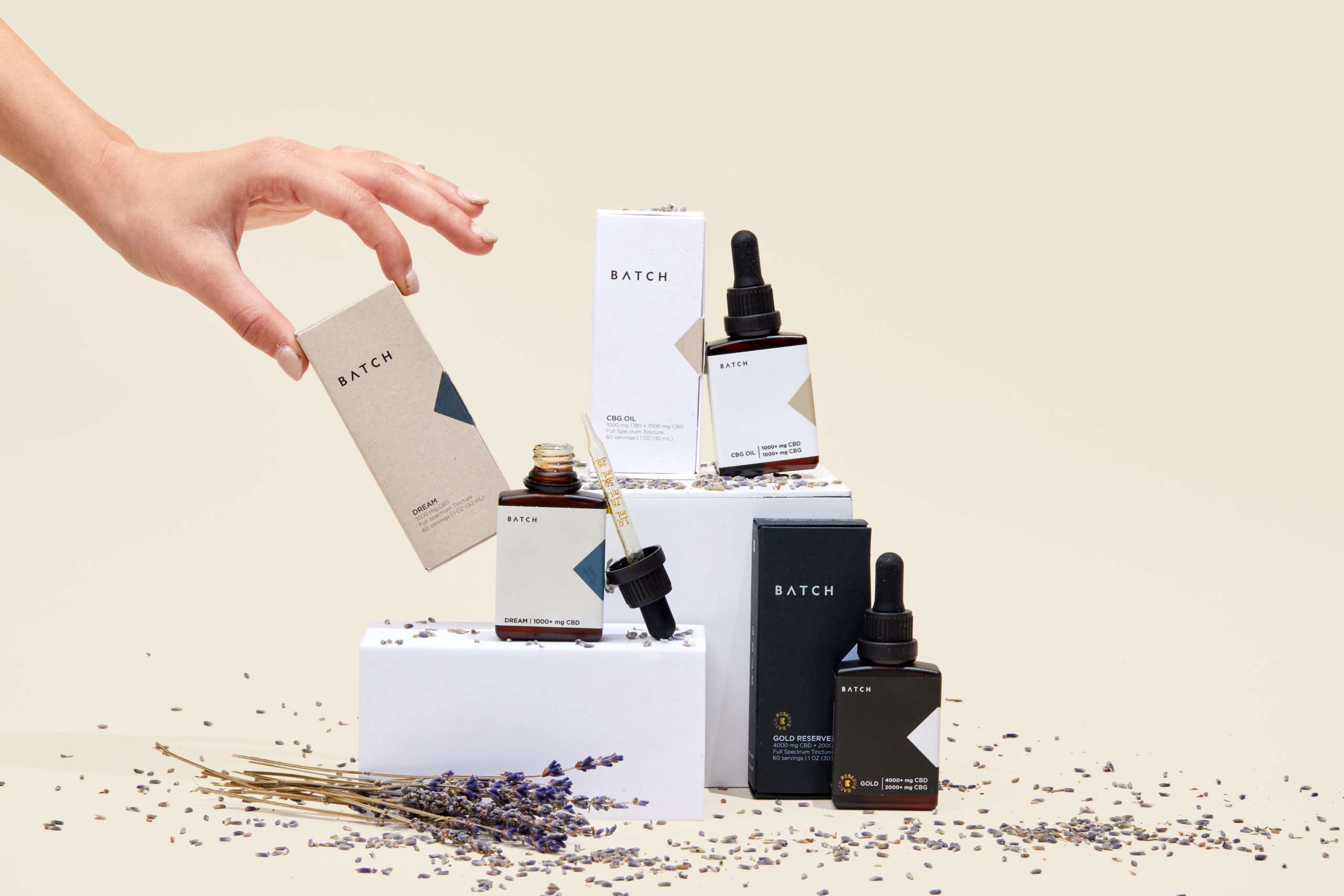 Why RevOffers Performance Marketing?
As an affiliate, you are aware that there are many poor brands with empty products out there, and a few amazing brands with ultra-premium products to promote. RevOffers focuses on quality over quantity, we have the best list of curated CBD offers anywhere.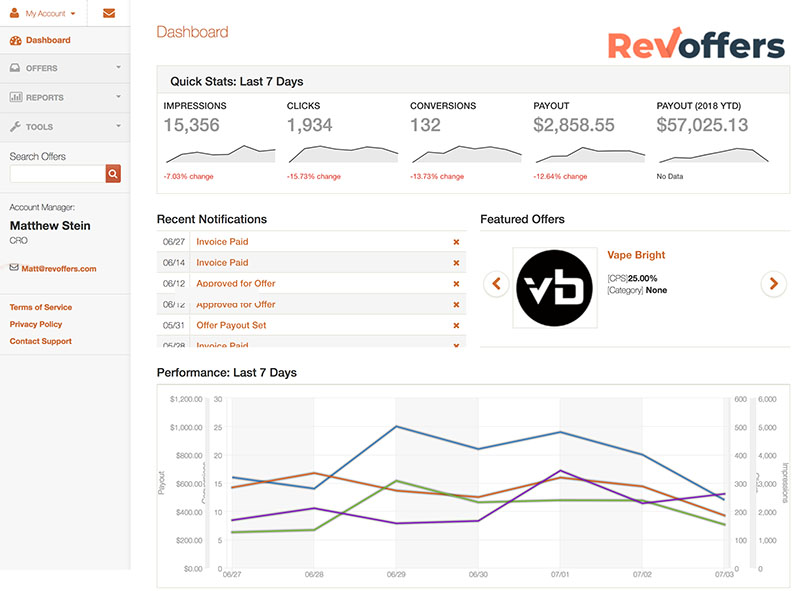 Why Affiliates Love to Promote with RevOffers
We curate the best transformational health products that are high-converting which allows our publishers to make even more money promoting brands they can believe in. Since RevOffers is an network, publishers have centralized access to multiple offers making it easy to promote, track and get paid.
RevOffers makes it easy for us to promote multiple offers all from one dashbaord - which means one payment too! With RevOffers we've been able to grow our affiliate revenue by 400% in just 3 months.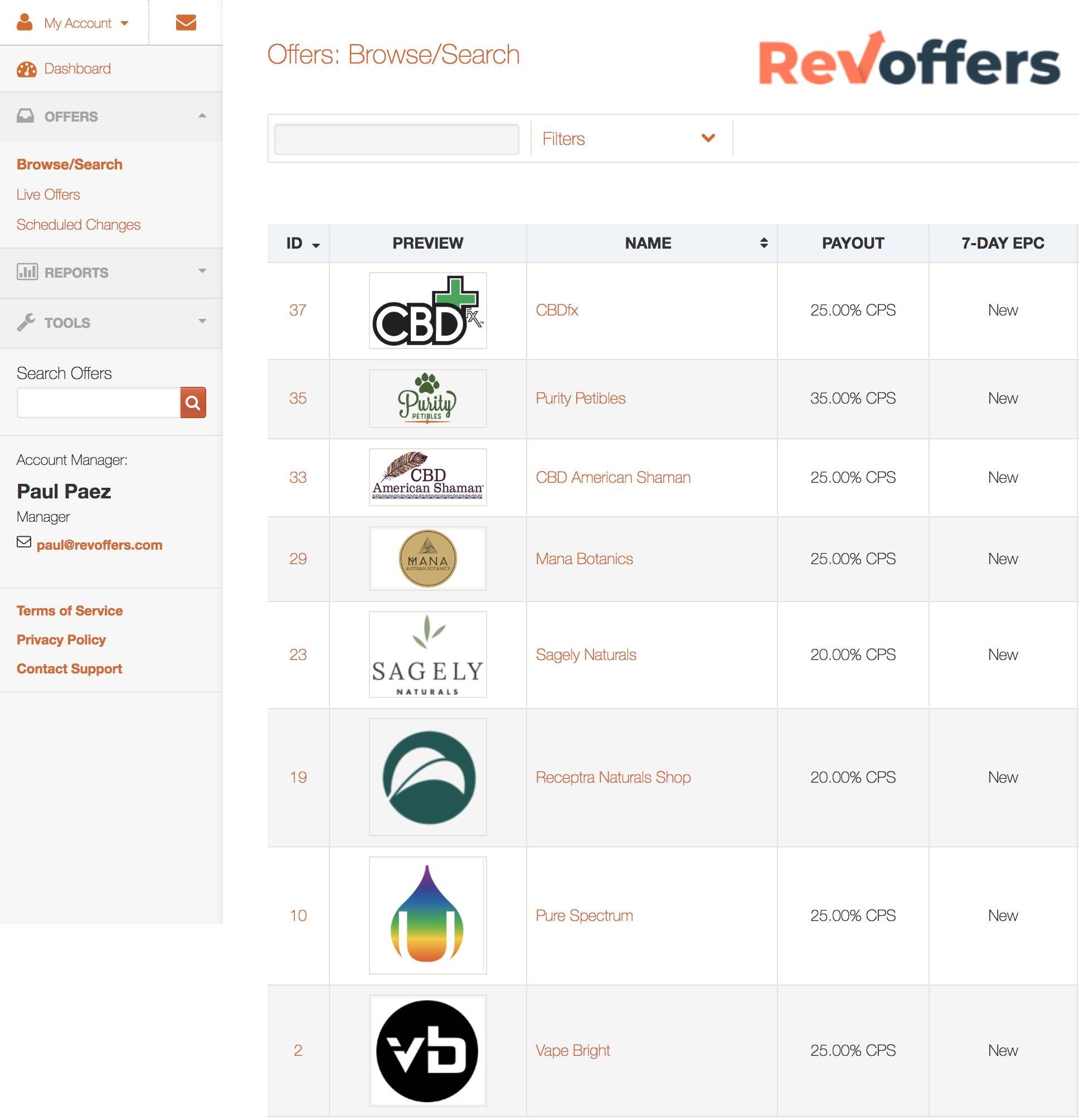 We are an Affiliate Network
We specialize in bringing affiliates like you high-converting offers with excellent payouts.
RevOffers creates deep partnerships with partner brands to ensure publishers actually get paid on time, every time. Joining RevOffers allows affiliates to leverage our curated collection of products in legal cannabis, natural health, and more. Putting multiple legal cannabis affiliate programs in one place simplifies and consolidates the process of making money with affiliate marketing.
Our Industry Leading Publishers